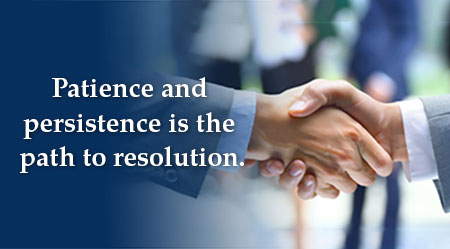 Jim mediates all manner of cases, regardless of their procedural posture, including pre-suit disputes, active litigation matters (both court ordered and voluntary), post judgment matters, and disputes in which an appeal is pending. In addition to two-party mediations, he frequently handles multi-party mediations involving as many as twenty-five or more parties.
While Jim mediates a wide variety of civil disputes, the majority of his practice is in the areas of:
Construction Litigation
Insurance Coverage
Commercial and Business Disputes
Employment Litigation of all kinds (employment discrimination; employee restrictive covenants; wage & hour; employment contract disputes)
Based in Central Florida, Jim mediates throughout the state of Florida and, by request, outside the state for multi-party disputes. In addition to the types of matters listed above, he also has extensive experience handling matters involving:
Business Torts
Class Actions
Condominium and HOA Disputes
Contract Disputes
Copyright & Trademark Disputes
Eminent Domain
Fraud
Legal Malpractice
Medical Malpractice
Negligence and Intentional Torts
Personal Injury
Probate, Estates & Trusts Disputes
Real Estate Disputes
Real Estate Brokerage Disputes
Stock Broker Disputes
Trade Secrets
Wrongful Death
Mediation agreements: As part of his services, Jim often assists attorneys in preparing initial drafts of their clients' settlement agreements.